Stone-Drew/Ashe & Jones (SDAJ) was created through the 1989 merger of two Seattle firms with roots going back to the 1950s. Over the years, SDAJ has established long-term relationships with manufacturers and customers alike, attracted knowledgeable and dedicated employees, and fostered continuity of leadership and a forward-thinking focus.
In 1998, SDAJ expanded again with the purchase of a well-established agency in Portland. SDAJ of Oregon operates out of a sales office and warehouse in Vancouver, Washington and services clients in the greater Vancouver and Portland area.
Stone-Drew/Ashe & Jones' mission is to provide excellent service and value to both customers and manufacturers in the commercial and residential plumbing industry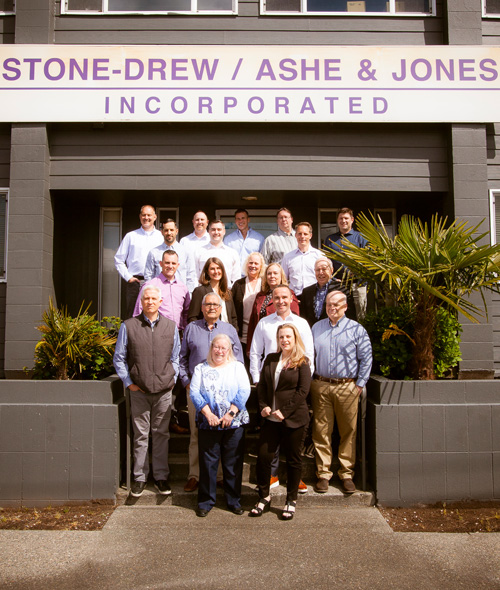 Today, SDAJ continues to build on its solid reputation and its high level of technical knowledge and customer service. SDAJ operates out of a 15,000 square foot office and warehouse in the Georgetown industrial neighborhood of Seattle. In addition, SDAJ operates sales offices in the greater Spokane area and in Kennewick, Washington. SDAJ represents a diverse and complementary group of manufacturers and product lines. Product markets include finish plumbing merchandise, architectural specialties, rough plumbing products, commodity plumbing material [specializing in piping and valve systems and selected water works equipment].
Geographical areas covered, which vary by manufacturer represented, include Washington, Oregon, Alaska, Idaho and Montana.
Sales are directed through established plumbing distribution. In addition, a focused specification effort is made with mechanical engineers, architects, municipalities and institutions. Emphasis on support of the various distribution channels, mechanical and general contractors, and end user customers is also addressed.